Students deal with e-books on a daily basis for study purposes. Most of them are in PDF format because it is the most secure and easy-to-handle file format. However, a major drawback of PDF format is you cannot annotate it without a proper tool. This shortcoming makes students restless, due to which they are always in continuous search of the best PDF annotator. 
In the e-market, multiple PDF annotators are available, but many are costly. Students prefer cost-effective tools to annotate PDFs to make the study journey easy. UPDF is the best tool for students because it is cost-efficient and feature-rich. It is the one-stop solution to all problems of PDFs. This article is about the best PDF annotator for students and how to use it.
Part 1: Which is The Best PDF Annotating Tool for Students?
The finest and most remarkable tool that can annotate your PDFs in different styles is UPDF. It works at a super-fast speed and gives accurate results. Students can use it to add comments on digital study materials like articles or e-books. You don't have to print out documents just to highlight essential lines because UPDF allows you to mark the digital document by providing multiple markup options. 
More than 100 stickers are available on this intuitive tool which you can use for beautifying your PDFs. Its stamps library is full of unique stamps which can be used on college forms. Moreover, graphic designing students can use its pencil feature for sketching different shapes. Above all, you can also add electronic or handwritten signatures on admission forms through this remarkable PDF annotator. 
Part 2: How to Use UPDF for Annotating PDFs?
Are you a student searching for how to annotate PDFs? If yes, then you are at the right place because the following are the instructions to annotate PDFs using UPDF. However, before going through these steps, don't forget to download UPDF on your device.
Step 1: Import PDF Document in UPDF
The first thing you need to do is to launch UPDF on your device and click the "Open File" button. A new window will appear where you can select the document you want to annotate. After selecting the document, tap the "Open" button to import your PDF on this tool successfully. Hit the "Comment" icon to use the annotating features. 

Step 2: Use Comments Options
If you want to add a comment, move the cursor to the "Text Comment" icon. Afterward, choose the text size, color, and style. You can also bold or italicize the text. Click on the preferred location to add a comment, and then a box will appear where you can write whatever you want. Similarly, using the "Text Box" and "Sticky Note" options, you can incorporate additional information into books.

Step 3: Use Markup Options
Multiple markup options include Underline, Squiggly, Strikethrough, and Highlight. To add curly lines under text, click the "Squiggly" icon on the upper navigation bar. Choose the color and select the lines under which you want to add. By doing so, curly lines under your text in the desired color will appear. Similarly, you can use other markup options also. 

Step 4: Add or Draw Shapes
To add shapes, press the "Shape" icon and select the shape. You can also adjust the "Border Color," "Fill Color," "Opacity," and "Border Thickness" of the shape. After that, place the shape in the desired location by moving the cursor. To draw shapes, tap the "Pencil" icon and adjust its thickness, opacity, and border color. Draw the shape, and if drawn wrong, use the "Eraser" icon.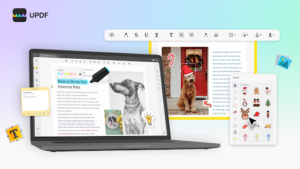 Step 5: Use Stickers and Stamps
Access the "Sticker" icon and choose the sticker that you like. Move your cursor to the page where you want to add it and click to paste it. Adjust its size by dragging its corner. You can remove it by right-clicking and selecting the "Delete" option. Similarly, add stamps on the document. After making all annotations, press "Ctrl/Command + S" to save changes in the document. 
Amazing, right? UPDF is the best student software available to improve the efficiency and productivity during the study.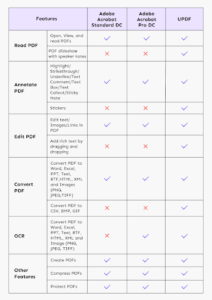 Part 3: What are the Other Features of UPDF?
For students, UPDF is the best to annotate PDFs because, at an affordable price, they can use a multi-tasking tool. You don't have to buy additional tools to edit, convert or protect PDF books because this powerful tool is more than just a PDF annotator. It can perform other unique functions as well, some of which are discussed below:
Protect Personal Documents: You can easily protect personal digital documents, such as identity cards, study reports, etc., by assigning passwords to them using this reliable tool. These passwords will restrict its opening, printing, copying, and editing. 

Convert PDF Files: If your teacher demands your final project report in Word format instead of PDF, check the plagiarism. Then use UPDF to quickly turn it into a Word document. Apart from that, this advanced tool can also convert documents into HTML, XML, Excel, and other file formats without disturbing its quality.

Edit Articles: Multiple editing options are provided to edit your articles' text, image, or link. This feature will help you change the text's color, size, or style. Moreover, you can also remove, add, or replace the image in a breeze.

Share Homework: With just a few clicks, you can easily send your homework to the teacher via email or a link. This exquisite tool also allows you to add the expiry time of the shared link. 
Part 4: Why is UPDF Better Than Adobe Acrobat?
Undoubtedly, Adobe Acrobat also offers multiple options to annotate PDF files, but students prefer UPDF over Adobe Acrobat to annotate PDFs. Do you know why scholars are more inclined towards it? You can learn the answer to this question by reading these points:
Students cannot afford that tool which offers high-priced subscription plans. Adobe Acrobat is doing the same, and that's why UPDF is preferred because it is highly cost-effective. Moreover, if you buy a single license of this best PDF annotator, you can run the tool on macOS, iOS, Android, and Windows without any glitches.

UPDF is easy to use as compared to Adobe Acrobat. You don't have to take extra technical classes to use this intuitive tool. With just easy steps, you can add comments, stamps, or stickers. Additionally, its interface is also delightful and eye-catching.

This powerful tool also offers other features like edit, organize, OCR, convert, and many others. Adobe Acrobat has limited features, such as it doesn't provide stickers. Even its Premium version is limited to advanced features. 
Conclusion
In this article, instructions on how to annotate PDFs using UPDF are given to students. Following these steps, you can easily add comments, mark the text, and incorporate stickers into your PDF books. This outstanding tool can also perform other functions like editing, converting, protecting, etc. Thus, download this tool now to excel in your studies.